IT Support Designed to Help You Work More Efficiently.
And More Securely.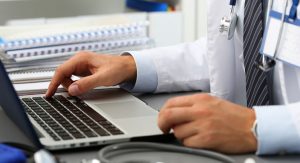 The medical world is quickly becoming digital.
Electronic Medical Records (EMR). Patient Health Information (PHI). HIPAA-compliant processes and safeguards. Let Microworx be your partner to find a solution that works best for you. We understand the layers of regulations and the quickly changing atmosphere which is health care. Microworx is here to help everyone from small, private practices to large, clinical organizations.
Whether it's keeping you current with HIPAA checklists, secure networks, or data encryption, Microworx will keep you running smoothly with increased patient flow management and secure, efficient reimbursement processes.
We support many Medical Software Packages, including (but not limited to) the following:
eClinicalWorks
Eaglesoft
Practiceworks
Carestream
Practice Made Perfect
Bio-Optronic
Dentrix
MEDENT
The Specialist
Crystal
ChartMaker
CareCloud
Encrypted Email
Solutions that fit your market